Industries
Many industries in Vietnam such as steel, garment, shoemaking, wood processing, etc. are using imported materials while others are taking advantage of cheap domestic resources such as cement, clinker, minerals, etc. to reap high export value.
1. Steel materials and products
Total import value of steel materials and products of Vietnam in 2018 was 18 million tons, USD 12 billion by value. 75% of value of Vietnamese steel industry is from import. Vietnam imports from raw material, semi products to finished steels in all. Steel export of Vietnam in 2018 was counted at 7.5 million tons with USD 5 billion value.
In Vietnam, steel scrap are the main raw material for steel production (accounting for more than 70% of the total input); and 70% of the steel scrap used in Vietnam need to be imported from overseas. During 2016 – 2018, total tonnage and value of the imported steel scrap market in Vietnam was 3.5 – 4.4 million tons and USD 0.8 – 1.5 billion respectively. In this market, A&A Commodities is the biggest supply of imported steel scraps with annual volume of about 300 – 400 thousand tons. Many local steel producers rely on us as main supplier accounting for 40 – 50% of their total procurement. We provide both steel making scrap (PNS, shredded, HMS, etc.) and rerolling scrap (rails, pipes, beams, bars, etc.). Beside Vietnam, we have regular buyers in: India, Thailand, Indonesia, Malaysia, Taiwan and many other countries with yearly volume about 200 thousand tons per year.
Beside steel scrap, we are participating in most of other steel items, from materials as iron ore, ferro, to semi – products like steel billets, hot rolled steel, and finished products like cold rolled steel, coated steel, construction steel, section steel. We represent both foreign suppliers to export to Vietnam, and local supplier to export from Vietnam.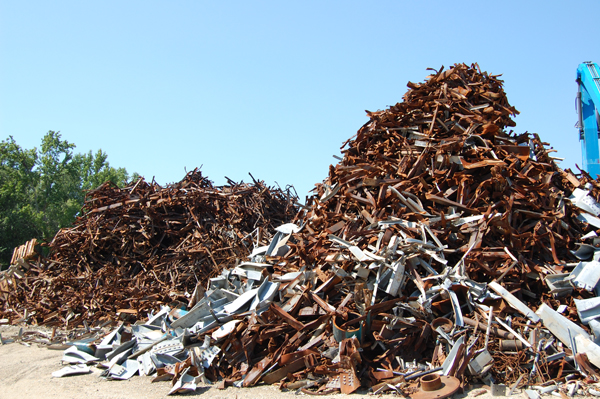 2. Paper materials and products
Up to 2018, total domestic production of paper of Vietnam is more than 4 million tons per year, of which 70% is produced from paper scrap. Total paper scrap used in 2016 in Vietnam was around 2.5 million tons, 70% (or approximately 1.5 million tons) of which was imported. Popular imported items are OCC, ONP, OP, tissue waste and NDLKC. For these products, the main exporting countries to Vietnam are Japan, USA, Singapore, Australia, Netherlands, and South Korea.
A&A Commodities is the largest agent in Vietnam for imported paper waste, and also one of the largest agent in Thailand, Indonesia for this commodity. Each year we transact about 200 thousand tons to all markets.
We are expanding to other markets, simultaneously to other items of paper as semi-products and finished-products.
3. Cementing materials and products
Owning hundreds billion tons of limestone with total production capacity up to 130 million tons per year, Vietnam is one of 5 largest cement producers in the world. Vietnam is also one of largest clinker, cement exporters in the world with sales tonnage of 30 million tons per year.
To serve this industry, each year Vietnam must import 5 million tons of gypsum, millions tons of petroleum coke, slag, fly ash and other materials. At the same time, Vietnam is exporting more than 4 million tons per year limestone lumps and limestone powder (excluded other stones).
We are the largest agent in cementing materials and products in Vietnam, with annual tonnage of more than 1.5 million tons, mostly clinker and gypsum.
4. Metals and non ferrous:
Main metal in Vietnam mostly are 4 base metals: copper, aluminum, zinc, lead. Total metal material and products market value in Vietnam is about USD 8 billion, of which Vietnam imports USD 5 billion materials in ingot, cathode, wire, and export USD 3 billion cable and other products. Export and import value of non – ferrous is about USD 200 million.
A&A Commodities is one of rare agent participating in all base metals, and present in both Vietnam and other foreign countries like India, China, ASEAN.
5. Fertilizer:
Annual import of fertilizer to Vietnam is 5 million tons, to be worth at USD 1.4 billion. Vietnam just can produce phosphate fertilizers and some part of urea, while importing most of others like potash fertilizers, amoni sulphate, DAP, MAP. With top ranks in agro products export, we believe fertilizer import is still good business for long term.
A&A Commodities is doing of all fertilizer grades that Vietnam import and export.